GX Chingy
banner designed by: Nightjar
article designed by: Sullivan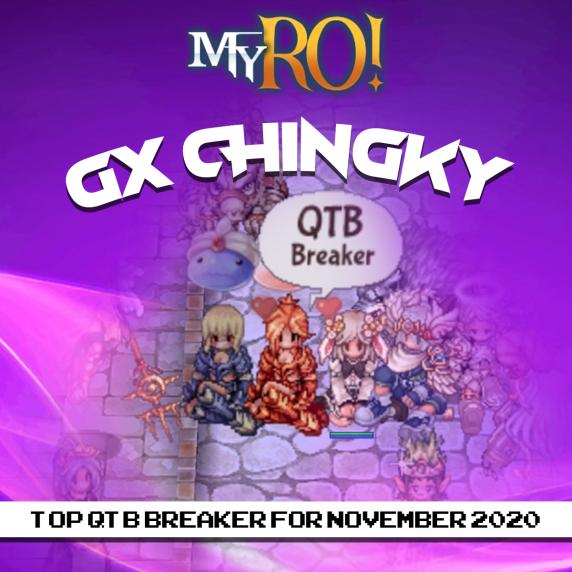 It comes with no surprise that GX Chingky from Prontera won this second time around. Our Top QTB Breaker for November 2020 proved once again that with skill comes power. She continued to intimidate her opponents again and made sure they knew that the title was only for her taking. Dominating the scene with her skull-crushing kills, she secured the spot for the Top QTB Breaker without breaking a sweat.

The QTB PK Map is full of aggressive and professional players and yet GX Chingky knew how to hit her enemies for those crucial kills that made her at the top of the 3rd job QTB Breaker ranks. She took control of each fight she faced and with the deadly skills and the mindset to match to secure a critical blow to each enemy in the arena, it is definitely no wonder that GX Chingky once again reigned as the Top QTB Breaker for this month. This is definitely a well-deserved win for her together with her teammates who guarded her and assisted with the kills, this title surely was for her taking.

It was a clean straight win for GX Chingky as she became the defending champion. No insults or taunts can faze her to drop that defending title. With unmatched speed and perservering attitude, she kept the title from being taken by her opponents. Once again proving that she is deserving of the title, it seems like GX Chingky is going for that Grandslam prize pot. Will she be able to safely secure her spot as the Top QTB Breaker for the next month? Let's all find out!