M ugen
banner designed by: Suisei
article designed by: Falchion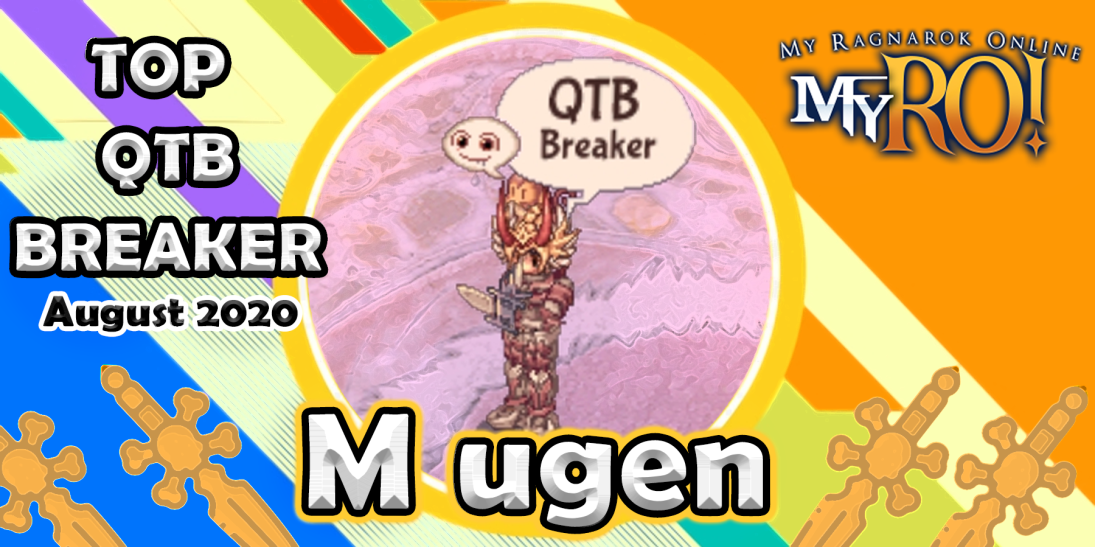 Our Top QTB Breaker for this month is not a surprise to some MyROnian's who happen to witness the perseverance and is always pounding/owning the leaderboards of the Top QTB Breaker whenever he has time. M ugen (Guillotine Cross) from Payon (Upper) continuously proved that he still got the skills and the dedication to win the Top QTB Breaker award! Breaking the Quest Treasure Box for 82 times! That was just really insane! Only a player with a high-level dedication and endurance would dare to do that and that for sure he has!

Once he crushed and recorded a 1 break, he unleashes the beast inside him, always pursuing to top it no matter what happens! It doesn't matter if he is alone, he uses his knowledge in MyRO to be able to counter some spells that his opponents try to throw to him! One key thing that helped him lead the leaderboards was the number of breakers he has! Being able to destroy and finish the Quest Treasure Box for 10 mins to 20 mins was really overwhelming and his foes was not ready for that! It seems like the preparation time of his enemies were enough for him to break the Quest Treasure Box! The 200k HP Quest Treasure Box was surely easy for him and was not part of his problem.

In the whole run of his Top QTB Breaker no one has ever matched on what talent he has! Whenever there is one player who is really determined to kill his breaker, he unleashes his main job so that his opponent will feel the fear of him as he was always able to crush his enemies no matter what job they may be!
Who would have thought that this previous dominant Top QTB Breaker would dare again to rule the Top QTB Breaker world and tirelessly top it! Again, M ugen from Payon (Upper) showed to the MyRO Community that he still has what it takes to be the Top QTB Breaker as he won our August 2020 Top QTB Breaker supremely! Awarded with the Prestigious Top QTB Breaker Balloon (+5% Atk Spd) valid for 28 days, 2 pcs. Black Treasure Box and 3pcs. Megaphones for greeting! Congrats to him indeed as he so much deserved it!