iLos Bakeros
banner designed by: Suisei
article: Falchion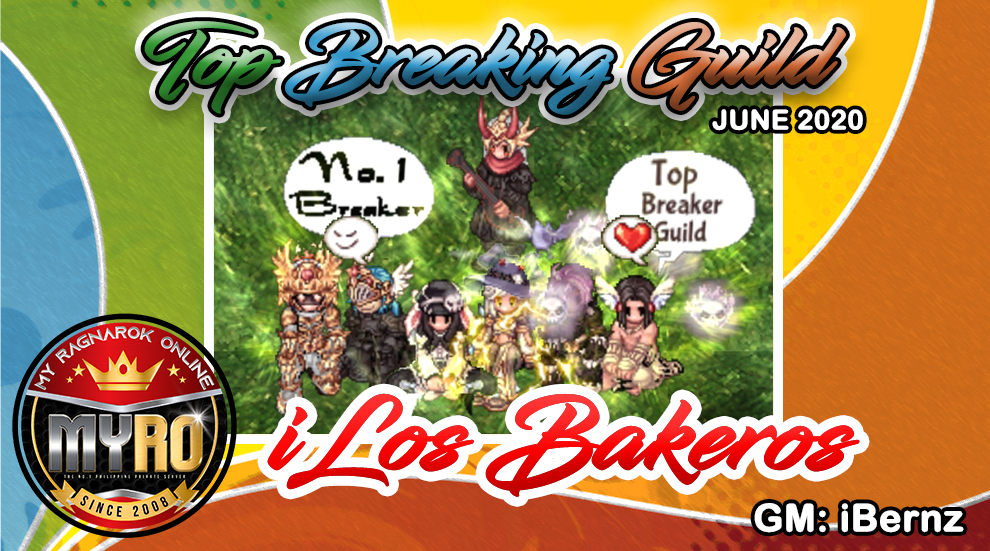 It seems like the old but gold players of MyRO are coming back to the game and starting to dominate the top breaking Guild! This Guild is named iLos Bakeros from Payon (Upper), they dominated the whole run without any hindrances on their way to the top as they don't have a clear foe into winning this Top Breaking Guild for the month of June 2020!

At the beginning they started strong because they expected that there would be an opponent who would want to take the top breaking guild for June 2020. They clearly worked their ass out blasting and destroying as much castles they could which then totaled to 479 breaks. In this comes the teamwork they've built and the bond of friendship they have communicating always and supporting each other! Encouraging every guild member of their own whenever there comes a hindrance or they are having a hard time or some errors! This Guild is a true master of resilience, always making a strong comeback after a major setback! Errors were their main reason in improving more because it is with error that they see a potential weakness. Helping each other, finding a way onto making their potential weakness become their greatest weapon.

In the middle of the month, they've noticed that the players were more focused on winning every castle available and not on winning the top breaking guild! This gave them time to rest in breaking castle's and also led them to help their friends in getting every castle they wished they could! But they also ensured that they are still on top of the leaderboards checking each day the WoE & Ranks Ladder.
Of course, at the end they ended it strong also, topping the leaderboard bolstering the confidence of every member of the Guild's confidence making a statement on to the game. Once again, our old but gold players from the Guild iLos Bakeros coming from Payon (Upper) our Top Breaking Guild for the month of June 2020! They were awarded costume Top Breaking Guild Balloon (All stats +1), 50 PODS and 3 megaphones.

Do they have the guts to make this a two-peat? or there would be another Guild who would dare to dethrone them? Let's all find it out next month!