E V R G R N, War Master Champions!
NightJar| MyRO Illustrator
Juji l MyRO Writer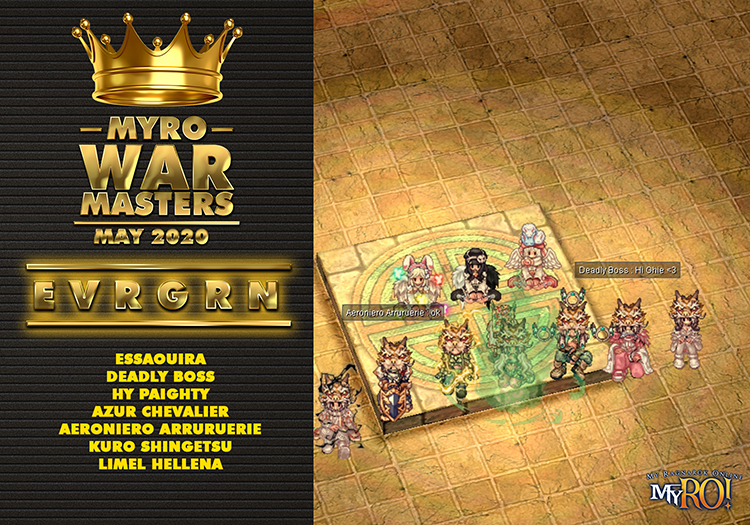 What a Great Way to Win, isn't it?

E V R G R N! Our MyRO War Masters for the Month of May!

The pioneers of The Upland Village, Evergreen, has joined this month's MyRO War Masters Event! Starting from scratch, these known elite players from the town of Payon that fate banded together, has once again shown that without labor nothing prospers.

Winning is a must they say, but for this team it wasn't always about winning, it's about learning each other's playing style and forming a strategy that would fit everyone's abilities. This was shown in their MyRO War Masters Scoring attendance wherein they would always be left at 2nd place and can't win a single scoring night at all.

Because of this, other contenders like e x e [Defending Champions], Obey and Hostel was very confident that they would win whenever E V R G R N was faced against them. Its as if they were treated as underdogs of the tournament and wasn't able to be competent enough to even win a single match.

On to the MyRO War Masters Finals Night it was e x e vs Hostel for the first match and E V R G R N vs Obey for the 2nd match. e x e showed immense domination with their performance in the first match as they win 3-1 against Hostel showing that they're ready to defend their title.

As the second match commences, Obey got the early lead with 2-1 on the scoreboard. One more lose for E V R G R N and they will be out for the MWM Finals. This is where everything got completely way out of hand for Obey, E V R G R N easily snatched a 2nd point against them making it a tie for the both of teams. As momentum rises for the Upland Village, they easily got the match point advancing them to the Finals.
As the Finals started, e x e was startled as E V R G R N began to demolish them and bring down its players one by one each and every round. This goes on until the 5th round! Giving E V R G R N a clean sweep and with surprise, this was their first win! Their first win in any MWM War got themselves hailed as the MyRO War Masters Champions for the month of May! A truly shocking surprise to all! Now with their heads adorned with the prestigious MWM Dragon Helm! They were also given PODS and Megaphones as part of their glorious victory!

Will they be able to defend their title next month?

/cheers!