Thanos: No 1 PK October 2020
banner designed by: Nadurata
article designed by: Omega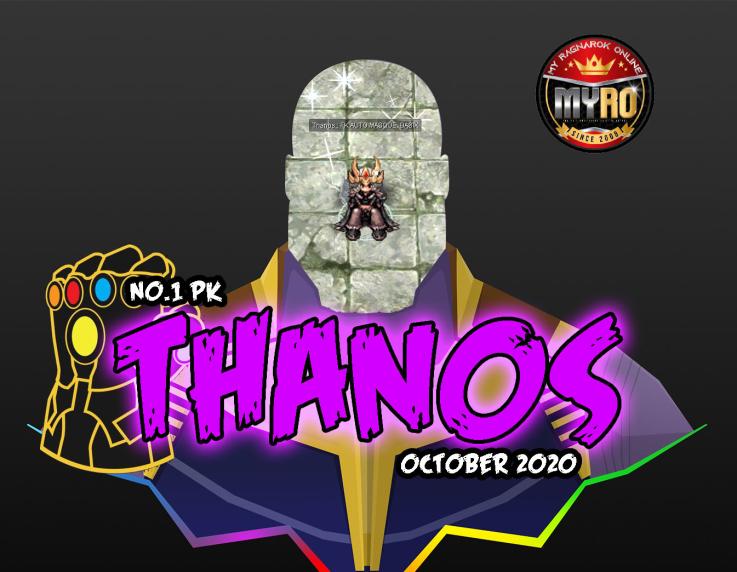 Completeing all the stones makes our champion victorious!

Would you believe a marvel character was playing Ragnarok Online? He's our PK Champion this month. No other than Thnaos, a Shadow Chaser who can instantly kill the enemy by just snapping his fingers (kidding). The name Thanos is no longer new in the server as we have seen him through other War Events and is consistent with the PK Ladder for quite sometime now.

Shadow Chasers are known to be one of the hardest job to face with at this kind of event. Every player knows that it's hard to counter this character and you need to have to use all your kowledge and wits to win. Likewise, Shadow Chaser is one of the hardest job to use in the server as you need to constantly switch your gears to prevent yourself from dying. Every player needs to familiarze himself/herself with the character. Infact, most of our PK Champions are Shadow Chasers. It's just so hard to counter this character but once they froze, it will be an instant death just like a snap of a finger.

Eliminations weren't that fast as they used to be. Qualified players were really determined to make their own way to the top! Quick and strong attacks, fast switches, and a hardened skin for every blow they take is the key for victory. Unfortunately, there could only be one winner per match.

Final Match is between our Shadow Chaser Thanos VS another Shadow Chaser Marczie with a sweeping 3-0 making Thanos our PK Champion this month. Both players fought by maxing out their hp pots and berries. It's a clear win for Thanos making Shadow Chaser Marczie run in fear.

Are we expecting more Shadow Chasers in our next PK Championship? We'll soon find out. Stay tuned!

#RakOn!