chamcha: No 1 PK August 2020
banner designed by: Phoenix
article designed by: Juji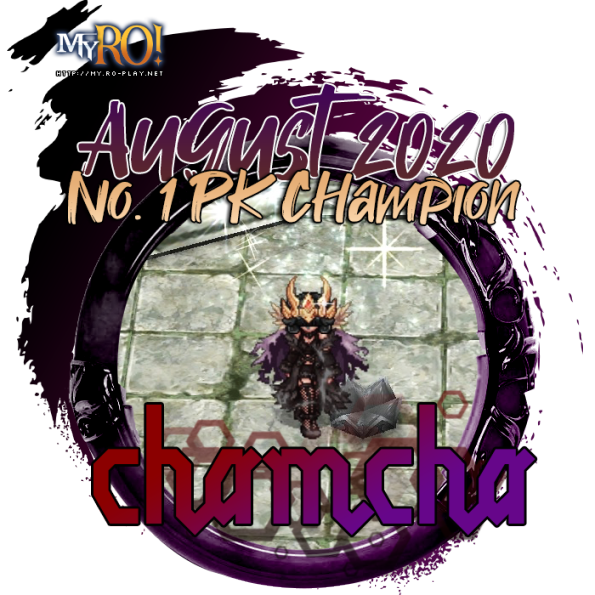 She Has Absolutely Become the Greatest Player of MyRO!

Chamca [Shadow Chaser] was held victorious last Saturday, August 15 as she beheaded Last Woman Standing [Rune Knight] in the #1 PK : Face - offs, 3-1!

Finishing in the upper bracket of the PK ladder is not a very good strategy to do when your trying to contest the PK Crown due to the fact the you might be easily encounter the defending champion at the earlier stages of the series.

Well, that's not a problem for this hasty Shadow Chaser! Ending in the 4th seed of the bracket, Chamcha was considered to be one the best and fearsome players that other contenders fear of battling with.

It seemed like a lucky day for her as she was given a Kagerou opponent in the eliminations, this would mean a very advantageous win for her due to the match up difference. Advancing on to the Semis, she may or may not know but it was a mind blowing match to be seen by all.

A sycophant it is! Cong [Defending Champion] forfeited in their match after he destroyed Chamcha in the first round of their match. With this Chamcha gained the upper lead and of course, the momentum that she wasn't expecting at all.

She easily dominated her side of the bracket afterwards. On to the Face - Offs, she was then unfortunate enough to battle with another fearsome Rune Knight, Last Woman Standing. Though many would say it was a handicap match, Chamcha proved she got what it takes to be the best and win all of the battles she was faced with.

Eventually, she won with a dominating 3-1 finish that would give her the title of #1 PK for the month of August! She got to wore the crown and of course, embrace all the glory she got with it!