MyRO Player on Focus Winners
banner designed by: Suisei
Article: Falchion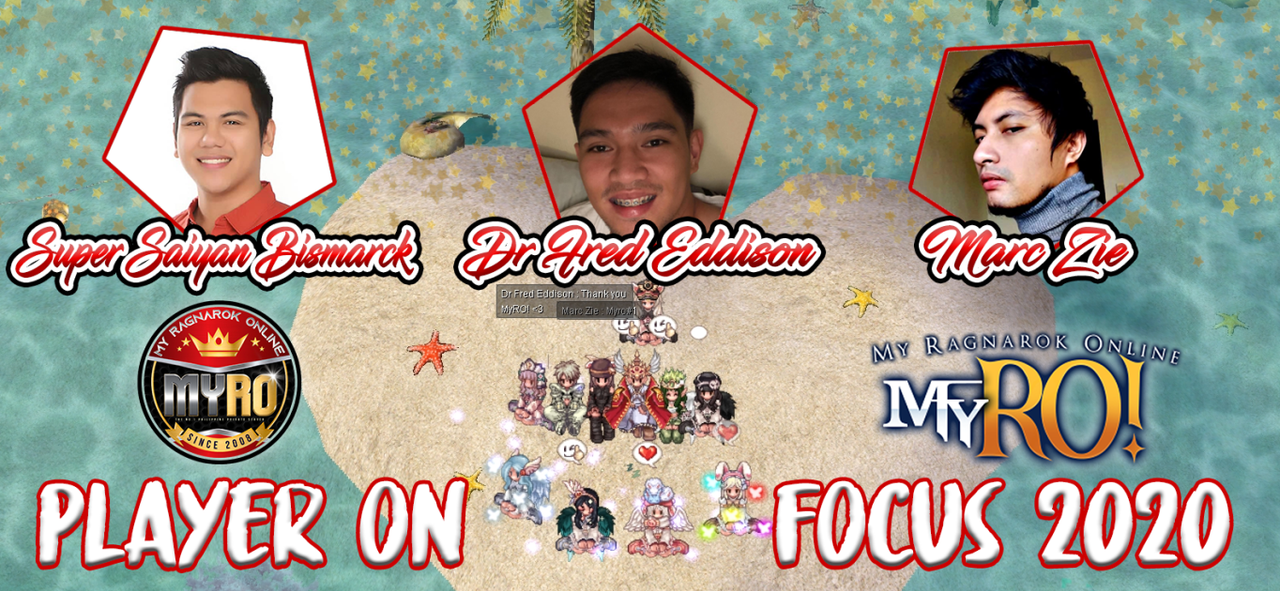 Another exciting event organized by the MyRO Dev Team entitled "MyRO Player on Focus". Onto this event a rare Headgear awaits! It may be the Costume Golden Garuda Crown or Costume Ashura Fairy Hat and an additional 100 PODS! It is with our best pride that we, the MyRO Dev Team have organized this kind of big event and we are humbled by this.

This event does not just happen in-game but also in real life, there are tasks that need to be done in-game and in real life! Anyone could join but only the courageous once and tough once joined. Of course, not all can win that's why there is an eviction day wherein the help from their friends are the only way to save them! Also, it is following a "Point System".

So how does the "Point System" work? There are what we called the POF In-game events and POF in real life events. Stated below are on how points can be gained or lost. Any form of vote buying is prohibited and would result in a penalty.
POF in-game Events
· Attendance gains 1 point
· Winning an Event gains 1 point
POF in real life Events
· First to Comply gains 1 point
· Top 3 submissions gain 1 point (Dev Team's choice)
· Player's choice gains 1 point
· Non-submission loses 1 point

Exciting right? Now let's talk about the event proper, introducing first the list of contenders; Dr Fred Eddison, Super Saiyan Bismarck, Mishy Charm, Marc Zie, Lan Fei Hong, Netty Quindrizz, OasisOfTheSea and V org! At first the players do not know what to expect at the event! They just followed every task that they must do and always hoped to win the event and top the "Point System" may it be in real life or in-game event!
What's most challenging for them are the POF in real life events as they must create a video of something that is tasked to them. It's not just simply a video they must create a creative video that would catch the player's attention as it will be posted on the FB page and the one who got the highest reactions that follows the Dev Teams rules and regulations would gain a point! Don't forget there is also a Dev Team's choice!

All of the contenders were always pushing 100 percent of what they can do to win each task, but unfortunately not everyone could win! This led to the eviction of some of them, which also led to the top 3 finalists namely Super Saiyan Bismarck, Marc Zie and Dr Fredd Eddison! These Top 3 Finalists were really on a push! All 3 of them wanted to win, they battled it out from the start! The Dev Team clearly saw the perseverance of these 3 finalists! Scores were tallied and guess what? all of their hard works have paid-off as all of them garnered the highest score points on the "Point System''. Meaning all of them are our winners of our first ever "MyRO Player on Focus''. Each of them received the rarest Costume Golden Garuda Crown and a dazzling 100 PODS! Cheers to them, and cheers to each and every MyROnian's! This event would not be possible without you all, from the bottom of our hearts we thank you MyROnian's in supporting and joining our event! We love you MyROnian's!