MyRO War Masters Rules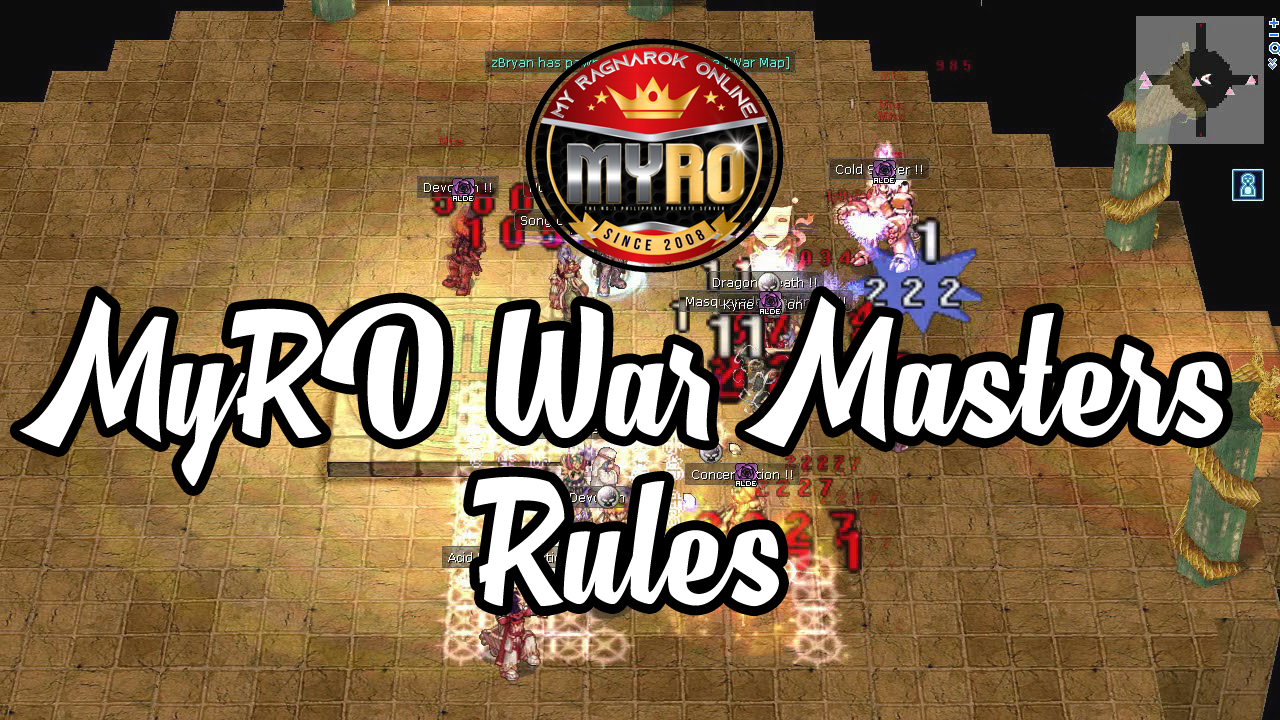 MyRO War Masters

MyRO War Masters ~ an event derived from our previous "8vs8 of the Month" with revised rules and mechanics for a better and more challenging team vs team type of war gameplay.

On certain days after War of Emperium (WoE 7-8pm [+8GMT]), an assigned GM will host The MyRO War Masters (MWM) Scoring. Anyone can form up their Team/Party to register for the MWM Scoring. The hosting GM will broadcast in game the mechanics of joining and will ask you to go to a particular map to register your Team/Party.

The Teams who participate will be given corresponding "Points" depending on the outcome of their matches. Please read the Scoring System below this page to learn more on how Points are given. Qualification for the M.W.M. Championships Major Event will be based on accumulated Points from each winning every War Event Scoring night described above.

Scores are tabulated on a specific thread and is updated daily by our respective host for each Scoring night. Click here for The MyRO War Masters' Scoring Tabulation. This will be the basis on which Teams will compete for each month's upcoming MyRO War Masters Championships.


SCHEDULE: The MyRO War Masters Championships is held at the 3rd Saturday of every Month or the week after The MyRO No1PK.


Rules and Mechanics for War Masters Event proper:
These official War Event rules will apply:

War Event Contenders should understand and abide by these rules before joining any War Event. Failure to do so may mean the disqualification of your team. Reasons of "I did not know"[color= orange] and the likes are not excused and will be ignored.
1. NO job repetitions.

2. NO PETS allowed, or you'll have your team DISQUALIFIED. Only one (1) Warning will be given followed by a disqualification of your team.

3. Each team should ALWAYS stick with their STARTING LINEUP, unless a STARTING MEMBER is Disconnected and should be replaced with a 'backup' member. But as much as possible, NO CHANGING OF JOB LINEUPS.

4. NO assumptio if there is no High Priest in your party.

5. NO LINKS are allowed. SOUL LINKERS are prohibited to join War Events for balanced gameplay, unless announced otherwise beforehand by the Event GM.

6. Berries, Seeds, GTB and Maya Cards are DISABLED inside the arena by default unless announced otherwise by the Event GM before the Event Proper.

7. Teams will be given time to repots and prepare in between each match. The hosting GM will recall each team on each side of the Arena Map. The GM will check both sides for "Disconnection Problems" (DC Call) and ask members on each side if all is well and shall proceed. A countdown will commence and the Arena Gates will open which will mean the start of the battle.

8. During the recall phase, characters that are not included in the line up is prohibited, specially buffer and/or support jobs like Wanderers or Archbishops. A violation would get you your 1st Warning (for the entire event) and the hosting GM will order a "Reconnection" of every participant to be recalled once again. A 2nd violation (for the entire event) would mean a DISQUALIFICATION of your team.

9. During a DISCONNECTION PROBLEM, just "PUB" inside your Arena Gate while the GM alternately checks for "DC Calls". This will notify the hosting GM of your intent to reconnect and regroup members. You will have approximately 1 minute to regroup. When there are no "DC" pubs during the DC Checks will mean a go on your team though it is best to give the GM a confirmation to proceed. Once the Gates open, DC calls will NOT be anymore entertained and will push through whatever number of players you have on your side.

10. Only One (1) DISCONNECTION PROBLEM will be entertained per ROUND. The succeeding "DC Calls" will NOT be entertained and so you must combat with what number of members left in the team. A forced "succeeding DC Call" request would mean a DISQUALIFICATION of your team to avoid complaints and annoyance to other participating teams. A "REPOTS" request is also considered a "DC Call" since you were given enough time (approx 3 mins or more) to prepare, unless BOTH TEAMS requested similar at the same time as long as the countdown has not yet started. The hosting GM will ask both sides if the "Repots Request" is mutual.

11. ATTACKING and/or using OFFENSIVE SKILLS during a Disconnection Problem or during a "Cease Fire" mode will have the offending team DISQUALIFIED.

12. The player who registered the party MUST BE part of the team or otherwise will be forfeited.

13. A team with LACKING members and with no available Backup members may STILL play with what number of members they have left. But of course, with the ADVANTAGE for the opposing, complete team.

14. Each ROUND will be given a 10-minute timer. If a ROUND exceeds the timer, a 1-minute "time limit" shall be imposed. Whichever team that has the most number of members will win the particular match (whatever job, offensive or support). A REMATCH will be called if BOTH teams have the SAME number of members inside the arena after the time limit on which case no point will be given to any side.[/color]

15.A REGISTERED TEAM WHO DID NOT ACTUALLY PARTICIPATE IN THE EVENT ( By means of playing a single round ) WILL NOT BE GIVEN A POINT.



Additional Rules:

1. Each team must be in one guild before the event starts. The official lineup must be composed of 7 MEMBERS ONLY, with additional 2 members as "backups" in case of DC problems. Therefore, each guild must be composed of 9 MEMBERS ONLY with NO REPETITION of jobs.

2. Each team will be given 1 DISCONNECTION problem for each ROUND. DC problem will last for 1 minute only. Succeeding "DC calls" will NOT be entertained and so you must combat with what number of members left in the team. A forced "succeeding DC Call" request would mean a DISQUALIFICATION of your team to avoid complaints and annoyance to other participating teams. A "REPOTS" request is also considered a "DC Call" since you were given enough time (approx 3 mins or more) to prepare, unless BOTH TEAMS requested similar at the same time as long as the countdown has not yet started. The hosting GM will ask both sides if the "Repots Request" is mutual.

3. Borrowing / Switching of members from another guild will be prevented due to Guild Lock. Guild Lock will be activated exactly before the event starts.

4. The Arena that will be used is GVG Map 2 (guild_vs2), watchers may access this arena using the Gladiator / War Event Warper NPC found at MOA.

5. Matches for the Semi Finals Round will be based on dice roll. One (1) representative from the 4 parties [preferably the Party Leader] will roll the dice. Team who gets the highest number will be team #1, next will be team #2 and so on, lowest will be team #4. Matches will follow the pairings as shown below. (Effective as of June 06, 2012)

6. Just to clarify, remember that we get the "TOP 4 TEAMS WITH THE HIGHEST POINTS" by MWM Championship night. By these words, we get the 4 highest teams even when there is a tie. Though there "can" be a "tie-breaker match" to finalize the ranking on who will be the 1st, 2nd 3rd and 4th team on championship nights to know proper matchings. For example two (2) teams are tied at the #3 spot. After the tie-breaker match, the winning team will be the 3rd placer and the losing will be the 4th. (Updated Sept. 7, 2013)

7. Take note that participating guilds must have joined the MWM Scoring at least 3 times to compete for the Finals.

Scoring System:

1 Point - For the team / guild that advances to SEMIS.
(A total of) 2 Points - For the team / guild that advances to FINALS.
(A total of) 3 Points - For the team / guild that emerges as the War Event WINNER.

Score updates will be posted here:
MyRO War Masters Score Updates[/color]

Only the TOP 4 Teams / Guilds based from this scoring system, AND the CURRENT TITLE HOLDER will qualify for the next MyRO War Masters Event.


Matches:

Elimination Round : (Race to 3)
1st match : Current Title Holder vs Top 4 = E1

Semi Finals: (Race to 3)
1st match : Top 1 vs Top 3 = S1
2nd match : Top 2 vs Top 4 = S2

Final Match: (Race to 5)
S1 vs S2 = MWM of the Month

MWM SCORING PRIZES:

1. Winning Team: 2p, 2 Manchu-han Imperial Feast, and a greeting

2. Consolation Prize: 1 Manchu-han Imperial Feast

SPECIAL CASE:

Case A: If no other teams participated in the scoring, the default winning team gets the following:
- 1p and 20 pcs +10 food of choice

Case B: After the teams have registered and one team forfeited without a fight:
- Winning Team will get Case A prize pool as well

Case C: After the teams have registered and one team forfeited after a fight:
- Winning team will get FULL prize pool from #1.

4. No consolation prizes will be given out to teams who forfeited (with or without a fight).

CHAMPIONSHIP PRIZES: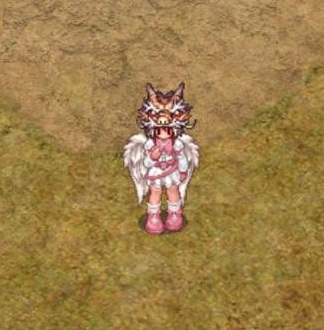 1. A rare and very special Headgear honoring the Champions,
MWM Dragon Head [1] for each member
Attributes:
- Decrease damage from demihuman monster by 10%
- +3%HP/SP
- All stats +2
- The MWM Dragon Head [1] will be passed on to the next MWM winners the following Month.
2. 21 megaphones for the whole team
3. 70 PODS for the whole team

For Grandslam: 140 Pods, 42 Megaphones, + MWM Dragon Head per player!

Now gather your friends, cast a team, practice by joining our daily War Events and show-off your Team versus Team prowess!

A new MAIN EVENT in MyRO is born- the MyRO War Masters event!~


NOTE: This Event upholds the GRAND SLAM RULE (viewtopic.php?f=32&t=1641) and the NO MULTIPLE TEAMS RULE (viewtopic.php?f=32&t=1643)