M ugen
banner designed by: Nadurata
article designed by: Falchion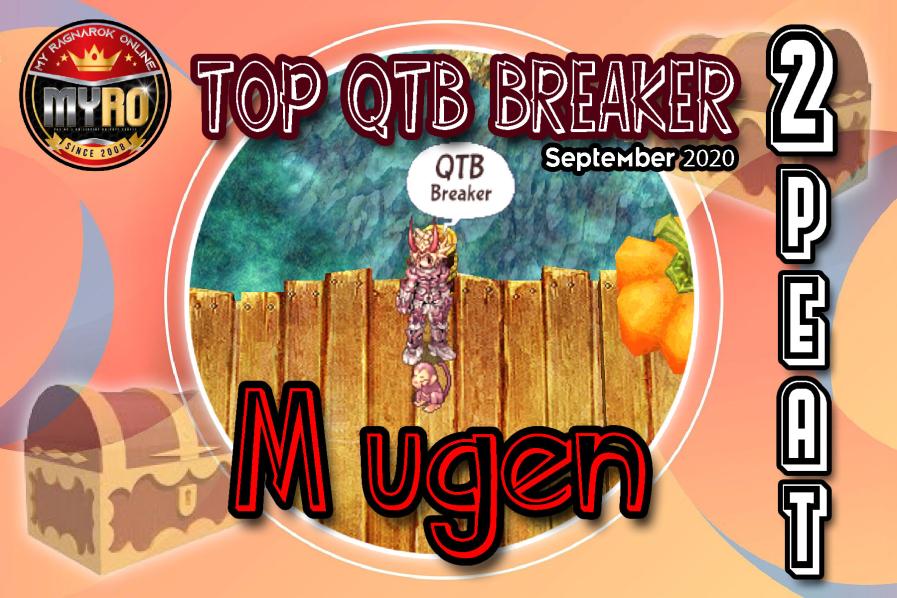 M ugen (Guillotine Cross) from Payon (Upper) once more topped the leaderboards and won this month's Top QTB Breaker! He proved yet again that he still has the skill of being a true quest treasure breaker, for him it was just a piece of cake as no one dares to oppose him! Through this he totaled 62 breaks, these numbers really speak volume.

He truly deserved all the praise and credits towards winning September 2020 Top QTB Breaker as he did this with his utmost dedication and will. Using again his high-level knowledge towards the MyRO he was able to counter almost every spell his opponents cast on him and onto his breakers! This was surely his time to shine yet again. There is no doubt that this breaker would claim a 3-peat or Grandslam towards this event as his performance shows a very big chance that he would be capable of doing it. This month is his 2nd time to win consecutively, meaning he is 1 shy in becoming a new hall of famer towards this event.

Again, M ugen from Payon (Upper) our Top QTB Breaker this month making it his 2-peat! With this being said he was awarded with the prestigious award Top QTB Breaker Balloon (+5% Atk Spd) valid for 28 days, 2 pcs. Black Treasure Box and 3pcs. Megaphones for greeting! Congratulations to him indeed!