C R i m x O N
banner designed by: Suisei
article designed by: Falchion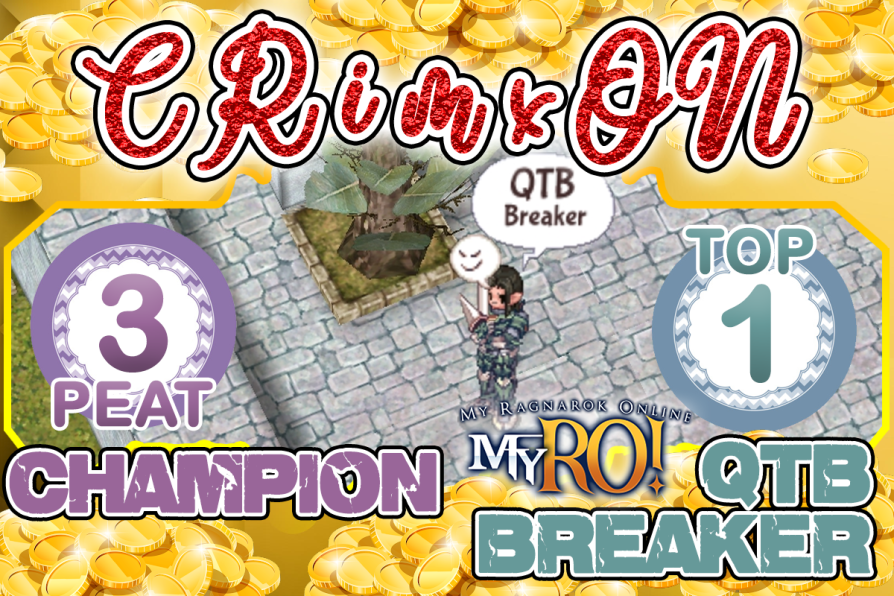 As a new update welcomes MyROnian community, a new hall of famer C R I m x O N (Guillotine Cross) also arises and is now crowned as 3-peat or Grand Slam by this month's Top QTB Breaker, crushing almost every Quest Treasure Box that spawn in Last Man Standing and in No limit Payon and leading the break counts for three consecutive months!

Together with his friends they easily broke the Quest Treasure Boxes whenever they are not busy. The 200k HP Quest Treasure Box was not a problem to them as they have dual breakers who smash it piece by piece and of course a high-caliber def that always made sure that the breakers are alive and continuing to smash the Treasure Box. It seems that they all have superhuman skills being able to read what the enemy would throw to the breaker and constantly defending it, what a great team effort indeed!

The Aldebaran players surely is part of the MyRO hall of famers as no one could match their toughness may it be on to the MyRO War Masters (MWM) and onto this Top QTB Breaker!! Moreover, there were also some players coming from Alberta (Upper) and Alberta (Lower) who helped defend all the breakers who were also an elite player in this game and they were much more present in defending him, using different spells to counter their foes. Using pneuma's, land protector's, neutral barrier, safety wall and many more! Whenever the Aldebaran players and the Alberta players are in the PVP room it seems that everyone coming from different save points were banned from entering the PVP room as they would just be a piece of cake for them killing them instantly.
Surely it was easy when C R I m x O N has def, but when he has no def or few def he is also struggling, pushing himself to the limit and constantly entering the PVP room even though he is having a hard time as he just want to break the treasure box and deal much damage in order to earn a point! Being patient was one of his key successes, never minding the number of times he entered the PVP room up until his fellow friends became active and defended him. What a breaker right? It seems that when his friends came all the hardships, he had taken were all wearing off, a true master of resilience is he!

C R I m x O N undoubtedly made a statement on this Top QTB Breaker, a statement in which it was only he who could break the Quest Treasure Box and topped the counts of breaks! This surely left his opponents a pain in the heart and sorrow. Guess how many times he broke the Quest Treasure Box? He totaled 26 times insane right?

Once again, a hall of famer C R I m x O N (Guillotine Cross) our Top QTB Breaker for the month July 2020 making him attain a 3-peat or Grand Slam onto this event! This means that he is not eligible for our next month's Top QTB Breaker in accordance to Grand Slam rules. Through his consistency to winning the Top QTB breaker he was awarded TOP QTB Breaker balloon, 6pcs Black Treasure Chests, and 10pcs megaphone! Who would be our next Top QTB Breaker? Let's all wait and see!