C R i m x O N
banner designed by: NightJar
article designed by: Falchion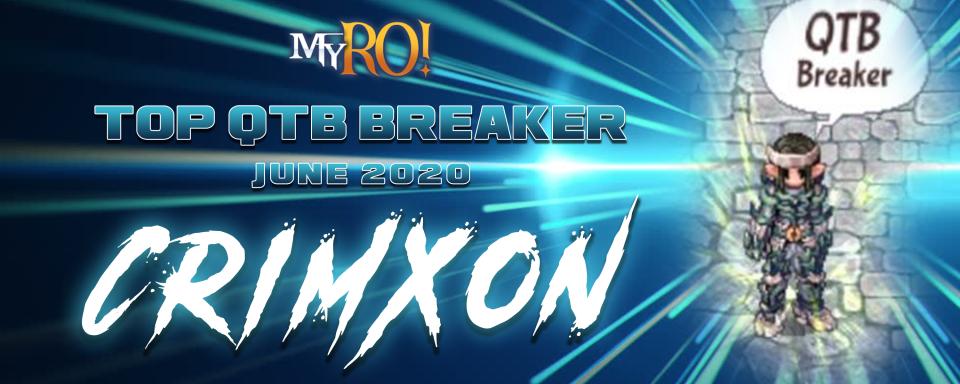 C R I m x O N (Guillotine Cross) once again claimed to be our Top QTB Breaker for the month of June 2020 as he easily destroyed the whopping 200K HP Quest Treasure Box for 76 times!

Sometimes it was tough but sometimes it was easy, finishing the box for just 30 mins! insane right? This was made possible through the help of his friends once again coming from Aldebaran, Upper (Alberta) and Alberta (Lower) who are elite players of the game and are willing to protect him and his breakers! It seems like the enemies are scared to enter the PVP when his friends are there. Although sometimes he doesn't have so many friends to help him with leading for some of his foes to enter and kill him and his breakers repetitively! This does not lead him to surrender but to push through, his patience and determination to break the box, always pushing forward he doesn't care how many times he goes on and off the PVP area, depending on where the Box is. Making a statement that no one must break the box but only he!

Countering the spells that was killing his Breakers was one strategy that he and his friend does, using land protector, safety wall, pneuma, neutral barrier and many more in order to save the breakers from harm while his friends are killing anyone who dares to kill all the breakers. Which would lead his enemies to go (AFK) Away from Keyboard as they could not penetrate and kill the breakers!

It was tough indeed but through his passion he once again topped it and is now reigned as the Top QTB Breaker for the 2nd time consecutively, which means his one way to win the Grand Slam. Can he together with the help of his friend defend and achieve the Grand Slam for the Top QTB Breaker or another player would dare to challenge him? Let's see!