x Los Bakeros x
banner designed by: Phoenix
article: Falchion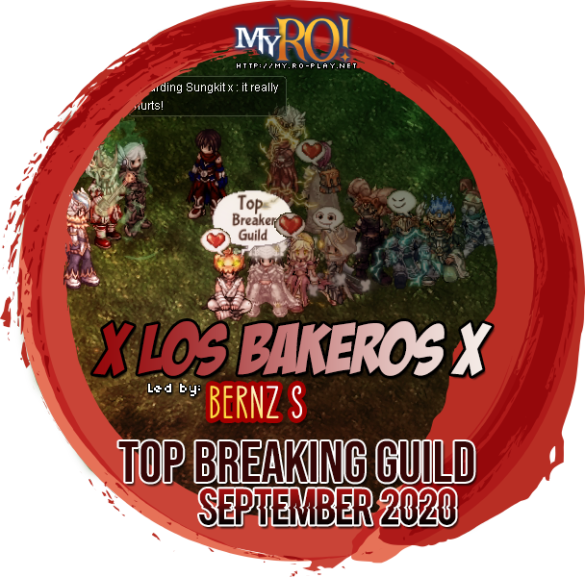 The battle towards the Top Breaking Guild was not really close, as these skilled and determined players coming from Payon (Upper) showcased to everyone that they could lead the leaderboards without any sweat! Guess what guild it is? It's the x Los Bakeros x led by BerNz S yet again. They are now the reigning and defending Top Breaking Guild as they now also hold the Top Breaking Guild for the month of September 2020.

MyROnian's witnessed again an Outstanding Guild, as they are creating a new legacy and pride to this event. Completely demolishing their foes, they outplayed and crushed almost everyone who dares to stop them from winning this month's Top Breaking Guild. Coordination and teamwork really helped them for the whole run. No one backing down, they were always eager to win the award which is their main goal. Once they got their momentum, no one could ever dare to stop them. They were like the god tier players when they were on their peak with no one matching their play style and skills. It clearly shows that it is their prime now, and has the possibility of being enlisted on the Top Breaking Guild hall of famer.

As they won this month's Top Breaking Guild, a prestigious award was given to them a costume Top Breaking Guild Balloon (All stats +1) together with 50 Proof of Donations) PODS and 3 megaphones. Could they do it a 3rd time? Can they manage to make it a 3-peat? Or someone would dare and dethrone them? Let's wait and see next month! Goodluck to all!