La Coste PH
banner designed by: Suisei
Article: Falchion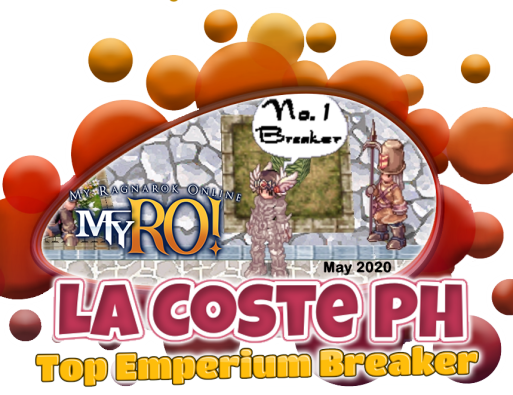 A beast was unleashed from Alberta (Lower)as La Coste PH proved himself against all odds, he demolished every emperium he saw 613 times! Bringing home, the prestigious award Top Breaker to his savepoint.

The battle for this top breaker was not an easy task for him. Eros Harley from Malaya who happened to be also eyeing to win the top breaker for the month of May 2020 was one of his greatest opponents as they battled, demolishing every emperium they could and not wasting any split of second.

La Coste PH proved that he is relentless, as he never stops! Through his determination he made his opponents quit, could you imagine how determined our top breaker for this month is? Making an opponent surrender as they could not match his strategic skills and perseverance!

He has done it through it all! Once again MyROnian's, let's all bow down to the beast from Alberta (Lower) our Top Breaker for the month of May 2020.